Fri 10/31/2013 @ 8:30 PM-10:30 PM:
P's & Q's Auto Body

*As featured on the hit show BAR RESCUE,
P's & Q's Auto Body is Huntington's only Speak Easy. Say the secret passcode "Singles Party" to gain entrance.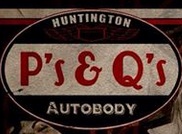 Over 100 singles have participated in our prior
Long Island Singles Parties

Friday 10/31/2013 @ 8:30 PM-10:30 PM:
P's & Q's Auto Body
(Exclusive SINGLES ONLY PARTY on the covered heated outdoor deck patio)
10:30 till ??? -Stay for the after party and you will meet many more singles.
Includes:

8:30 till 10:30 PM
* Private Party Space in the heated patio (covered) for our Singles group (the space is for us only!)
*Games which will get you introduced to other singles!
* Cool prizes
*Tons of other fun singles!
*Cash Bar
*Light appetizers

MUSIC KEPT AT A LOW SENSIBLE NOISE LEVEL DURING THE SINGLES ONLY PORTION, SO YOU CAN MINGLE AND TALK TO OTHERS

+

After-party from 10:30 PM till 2 am

*Party with many more of P's & Q's AutoBody guests

*Halloween costume contest
* DJ Spinning tunes all night long


Our past new Long Island singles parties have been fantastic. Ages will be mixed, with the majority being late 20's, 30's, 40's and some 50's

Question: Can I pay at the door?
Answer: Not recommended plus you will pay more! Please pre-register and save!

Cost:
$15-$25 depending on how early you register.
(Door registrations are NOT guaranteed. Please pre-register)


***REGISTER HERE***