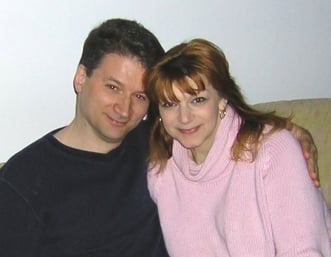 We know of at least 42 engagements, 35 marriages and several other couples who are very happy together. If you have a story to share, please email us at
This happy couple met at one of our events almost four years ago and got married. Congrats to Heather and Joe! Best of luck.
Lance and Theresa met at our Northern Lights, Stamford Mariott event and got engaged in February 2017. Watch this awesome video!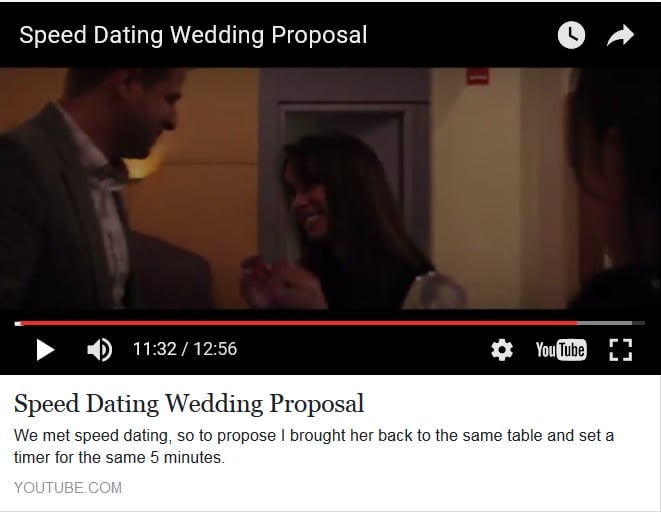 Jay, just wanted to thank you! Bill and I just got engaged! We met at one of your events at 34 New Street in Huntington. Wedding date set for May this year! Thanks a million! You changed our lives!!


On November 2, 2009, I had the pleasure of reuniting with nine couples whose lives have changed forever. I took them to dinner at Allettos in Lindenhurst. If I had any doubt about the true purpose of WeekendDating.com, those doubts were put to rest. The event went so great, that a couples reunion will be planned once or twice a year.


Married June 2011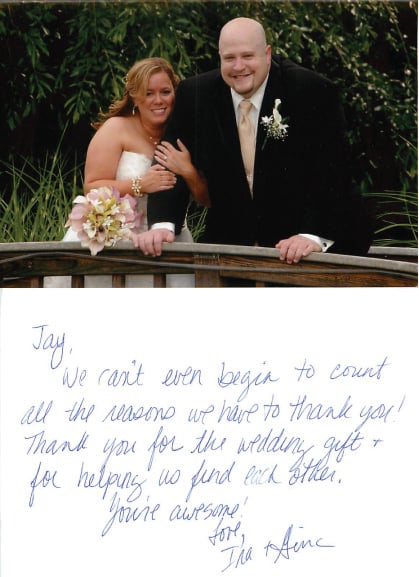 Jay, hello to you! I attended an event at Katies (Smithtown) in November of 2006 where I met my (now) fiance. I wrote you in 2007 to let you know that we were moving in together, now I would like to let you know that we are getting married. We were engaged last October at Niagara Falls! We will be married this coming October. I thought you would want to know about another successful match! Thanks for all of the good you do to help couples find each other.

Regards,
Diane and Tom

Jay;
Peter and I are still dating since your event March 2008. We are now living together. We are wishing you happy Holidays and a very happy New Year.
Thanks again
Pam
Dear Jay,
On Saturday, December 5th 2009, Tommy proposed at the Rockefeller Center Christmas Tree. It was the happiest night of my life. And Jay, Tommy and I would never have met if it wasn't for your speed dating event on June 20, 2008 at Callahan's in East Meadow. Due to the relaxed and fun atmosphere you create at your events, we were able to get to know each other without the awkwardness and anxiety usually associated with singles events. Jay, Tommy has made all of my dreams come true. He is the best thing to ever happen to me. He is my knight in shining armor, the hero in the story of my life, the answer to all of my prayers. I don't think I even knew happiness like this was even possible. I know you are a businessman, but I like to think of you as a modern day Cupid. Thank you for providing the means for our incredible future. See you at the wedding :-)
All the best,
Gina
Hi Jay,
I just wanted to tell you that I attended one of your speed dating events about 4 years ago. I matched up with a really nice girl, and this past April we got married. Things are great, we have a house in Wantagh and are very happy.
I just wanted to say, thanks for doing the events, your doing great things. Your very appreciated.
Michael
Hi Jay,
Just wanted to inform you that Anthony and I had met at your party at Cats Meow last year and we tied our knots 8/06. I was just cautious about our names being displayed that was the reason that I delayed this information.
It's a grand service that you have been doing to the community at a very reasonable price.
God bless you.
RB
Dear Jay,
I just wanted to let you know that I met Jerry at one of your speed-dating events in March of 2005. We were engaged in February of 2006 and were just ma rried in July.
Rosie
Just want to say that I met someone special at your October 18 event at Sly Fox. (It was my 2nd event - I was supposed to be out of town, but you had one extra spot for women. You said, "Maybe it is meant to be"...and it's been pretty great these past nearly six months. Chris was totally there for me during the holidays, when my dad passed away in January, etc. Just wanted to let you know. I have been referring friends/acquaintances to weekenddating.com.

Hey Jay,

Don't know if you remember me, we met a few times at the Cat's meow. You bought my baby g/f a pizza, she was the young blond hanging out at the bar. Anyway dear.... I've been meaning to tell ya that at the single thingy, last year, around this time, end of June, I met Gary. We have been dating now a year and are very much in luv. Just wanna say ty for having these speed dating events. He and I get along so well. Anyways I'll keep in touch.
xoxo Lynn


Hi Jay,
I attended your speed dating event in September 2005 at the Salty Dog in Bay Ridge, Brooklyn. I met Adam at
the event and we've been together ever since. Thanks so much!
Stefanie


Dear Jay-

Thanks to WeekendDating.com , I no longer need these mailings... In July,2003, I met Mr. Right... at your program... Conrad and I are now engaged... just thought that you would like to know...
Pat B




Jay,

I would just like to say thank-you for what you do and to let you know that it looks like your speed dating has resulted in yet another engagement. I met Chris at Brunos May 2004. We dated a few weeks before we became exclusive. However after some outside influence we broke up after a year. Seven months later we got back together and today I am happy to tell you that we are engaged. We are so very happy and thought you would like to know. Thanks so much,

Shelly




Thank you, Thank you, Thank you (I truly would never be able to thank you enough) for creating that night that brought me such a wonderful person.
Sorry this is so long but I thought you would appreciate the feedback and if anyone ever gets discouraged (and God knows I had my moments) you can tell them about my story. Hopefully, this is only Chapter one of a
very long book.

Thanks again,

Barbara




Hello. this letter is for jay. it is catherine, jen's friend. well nick and i are engaged and getting married 11/17/06. we went to the bruno's event, march 26. i almost left and he decided to go at the last minute. we talked about marriage about 4 months later and were engaged 5 months later.
THANK YOU for giving us the opportunity to meet. :)

hope all is well with you!!
catherine





hello jay,

well its official mark and i are engaged as of christmas eve! we owe our initial meeting on Friday June 18, 2004 at Brennan's to you! we couldn't be happier and wish you much success.


lisa and mark


HI Jay. FYI. Dan and I who met at one of your events one year and ten months ago and a half are now getting married!

Tina


Hi Jay,

Thank you very much for telling me about that
singles event. I been dating this wonderful guy for 2 months already. My friend was interested in attending your events, but I wasn't sure if you had the slightly younger age group like the one I attended. She is 30
years old and wants to meet someone from like age 27-35. I told her I met someone at the cats meow and maybe you would have one of these events again. I hope you have a great weekend and thanks again.
Dawn


Jay,

Just want to drop you a note and holiday greetings. Lisa H and I met at one of your dating events in Brooklyn in April. It was the first for
both of us. I am happy to report that we have since been married and have relocated to Pennsylvania. We just closed on a house and we are moving in
tomorrow. We be happy to participate in a success story as we both feel so fortunate in meeting through your social.

Happy Holidays!

Joe L


Hi Jay,

Just wanted to let you know that I attended the event at Jillians on February 12th and met a great guy. We have been dating ever since and I just wanted to thank you. You no longer have to send me the emails about upcoming events because I know this is "the one". Thanks again.

Michele

hi jay,

i ended up meeting my boyfriend Brian at the June 2004 speed dating event at brennans.

i want to share the happy news that Brian and i have been together almost a year and half now and are planning on getting engaged around the holidays. we would NEVER have met if it wasn't for your speed dating business. we want to thank you for getting us together. ill keep you posted when we officially get engaged! you can then add us to your 'count' of engaged couples.
Jennifer and Brian
Hi Jay:


Just wanted to let you know that Joe and I got engaged last month. Both of us wanted to let you know we are thrilled that we met one another at Speed Dating and would highly recommend it to anyone!!!

Amanda

Hi Jay!

Last fall I came to your Hauppauge speed dating and had a wonderful time and went on a few dates. It has been nearly 30 years since I have been single. From those dates I was able to build some dating experience and confidence in dating. I found this whole experience to be very positive. After dating several months and even more confident I was ready to try speed dating once again at your Farmingdale location just two months ago. I had even more fun and 1000% more confident and relaxed. I went on some more dates but was really interested in only two super ladies, it didn't take me long to realize my connection was with "Cookie" not her real name and we have been together ever since. Cookie and I really knew the very first night how special we were as a couple. What a great service you provide and professional way you run your service. Thanks so much.

Rich


Dear Jay:

I want you to know .. it may sound korny but thank you for having your speeddating.. if not for you, I would not have such a wonderful boyfriend and I am very greatful for that

Monica
Update: Monica and Dom have since married and as of April 2010, Monica is 6 months pregnant
Jay,

Hi. It's Barbara, the first speed dating ticket winner. Well, it's still early but I thought you would appreciate the feedback and the story. I went to the second night, largely to meet up with your friend Dave and because I won the ticket. I took the winning of the ticket as a sign. My mom died when I was little and she has been giving me signs all along. Well, turns out one of my matches and I really hit it off.

Jay,

The first time I tried speed dating, I approached it with expectations of having fun ... I didn't expect anything to come out of it. Imagine my surprise when something actually did! Of the six matches I had that night, I met with three about one week after you introduced us. Bachelor #1 didn't appeal to me and Bachelor #3 made me feel as if were at the dentist. However, Bachelor #2 made quite an impression. John (#61) and I met at 2 PM on a Sunday afternoon for coffee. We immediately started talking and at about 5 PM I asked him if he wanted to get something to eat because I was starving. We sat in the restaurant until 9 PM. We would've stayed longer, but I had to get up early for work Monday morning. After a seven hour first date, we both had an idea that something good was going to happen! That was almost two months ago and we've been inseparable ever since. Thank you for bringing two people together who probably wouldn't have met otherwise.

Sue


Jay, even though it is still early I really started to believe I would never meet someone who sees life through my eyes and is on so many of the same wavelengths as I am. We both are a bit ga-ga over each other. I have always said "Timing is everything" and apparently we were 14 years in the making. I am over the moon! My friends say I am walking and talking differently and co-workers who don't know me very well are saying that I look great:)