BUY TICKETS


**Exclusive Private event for our group! We will have approximately 30 people and break into groups of 10.

Get ready for 60 minutes of crazy fun, team building and lots of laughs as you - as you play one of the escape games! You and your team mates will enter a room, find the clues, solve the puzzles and work together in order to escape....
How it works/ Itinerary
The games starts at 2:30 PM SHARP, however we will have a pre-mingle at Noon at a local bar/pub (location announced only to those who registered/paid) where we will introduce you to the other attendees and break up into teams.

Itinerary
Noon-2:00 PM- Premingle to meet other attendees
2:30 PM- Let the Games Begin
The Games

You will be playing one of the following games (not all three)
:
You are Dr. Watson trapped in a mysterious room. Unfortunately, Sherlock Holmes can't help because he is somewhere else - he's waiting for you to join him in tracking down the hound of the Baskervilles, the adventure of your lives. Escape before time runs out!
An ultra-intelligent Big Bad Wolf has trapped your team in his magical forest! And one of your teammates is locked away from the rest. Note: HE WON'T BE IDLE. He will collaborate with other team members to solve puzzles and earn his freedom. (If the team is clever, his exodus typically happens within 10 minutes) After the team is reunited, they work together to escape the forest!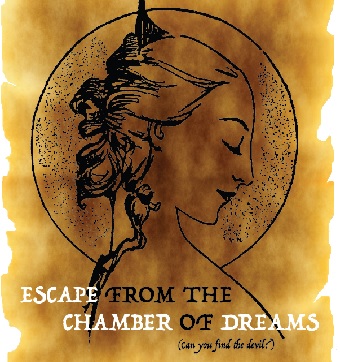 You are trapped in a sequence of dreams of a troubled individual, the kind of character from an Edgar Allan Poe story. You will be taken to visit the dreamer's past, present and future. Get ready to solve puzzles made from optical illusions, special visual effects and hidden imagery. Your goal is to escape from this man's subconscious!
Yelp Review
I was there a month ago and went back for the second time last week. Tried two of their three escape games and found both great fun, well-designed and thought provoking. I really like how each room has a theme and how puzzles were revealed. It is obvious that the owner gave lots of thoughts into his games.

You will love this if you like riddles and enjoy a fun challenge. It is also a great icebreaker for someone who you have not met or getting to know deft no regrets and this will give you a sense of achievement if you are able to ESCAPE!!